Calcium Sodium Phosphosilicate
Product Detail
FAQ
Product Tags
Calcium Sodium Phosphosilicate
(Bioactive Glass)
Calcium Sodium Phosphosilicate is a bioactive glass compound invented in the 1960s for the purpose of bone regeneration for troops wounded in combat. It was later adapted into dental applications through research funded by a Florida company called USBiomaterials. In 2003, USBiomaterials spun off its dental research into a VC-funded startup called NovaMin Technology, Inc. CSPS is more commonly known by the brand name NovaMin.
Chemically, bioactive glass is an amorphous structure (like all glasses) that consists solely of elements found in the body-silicon, calcium, sodium, phosphorous and oxygen. Decades of research and studies have demonstrated that bioactive glasses are highly biocompatible.
When activated with water, bioactive glass releases the ions of its composition as they possess a high bioavailability. Under certain conditions in solution, these species will precipitate onto the glass surface and other nearby surfaces, to form calcium and phosphorous containing layers. These surface layers can transform into crystalline hydroxycarbonate apatite (HCA) – the chemical and structural equivalent of bone material. The ability of bioactive glass to build such a surface is the reason for the bonding ability to human tissue and can be seen as a measure of the bioactivity of the glass.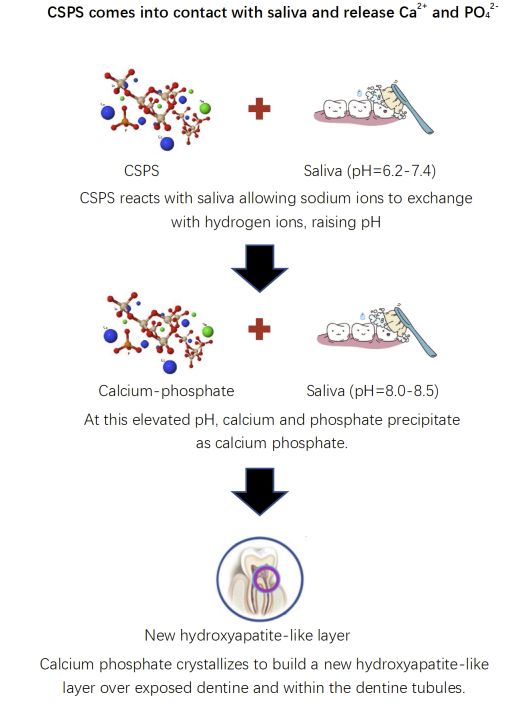 Bioactive Glass CSPS is suitable for medical desensitizer and oral care products, as well as skin care products.
1.Forms of Supply and Product Packaging
● Trade name: CSPS
● Classification: Glass
● Form of delivery: Powder, grain sizes upon request
● INCI-name: Calcium Sodium Phosphosilicate
● CAS: 65997-18-4
● EINECS: 266046-0
● Mass %: 100
2.Features / Specifications
2.1 Appearance:
Bioactive Glass CSPS is a fine white powder that is odorless and tasteless. Due to its hydrophilic property, it must be stored dry.
2.2 Grain Sizes:
Bioactive Glass CSPS in the following standard grain size.
Particle size ≤ 20 μm (Customized grain sizes are also available upon request.)
2.3 Microbiological Properties: Total viable count ≤ 1000 cfu/g
2.4 Heavy metal residue: ≤ 30PPM
3.Packaging
20KG NET drums.
Product Tags
Calcium Sodium Phosphosilicate, Bioactive Glass, Bioactive Glass CSPS, medical desensitizer, 65997-18-4
---
Previous:
Sodium Lauryl Sulfate (SLS)
Next:
Fluorinated Surfactants
---
Write your message here and send it to us